We are forty years old on paper. On digital, not at all.
SEO (Search Engine Optimization) or natural referencing, also called organic referencing, consists in optimizing a website to improve its ranking in search engine results. The optimization techniques allow to be first on Google in an organic / natural way and not paying. SEO is a medium and long term strategy; on average more than 50% of a website's traffic comes from organic search.
It all starts with an SEO audit!
Conducting an SEO audit allows you to have a global view on your market and your competitors. It also ensures that you have a quality site that will extend the browsing time of Internet users.
Before allocating a large media budget, make sure that the user does not end up on an error page after clicking on an ad or that the product promotion benefits from a traffic measurement tool in order to have data on the purchase funnel and the customer journey.
Imagine launching a Facebook campaign to promote the purchase of a product and having users redirected to the wrong item due to a technical error.
At Mediamix, we offer this SEO audit service in addition to our 40 years of experience in the media to ensure that your campaigns are effective and keep your users coming back.
In a Search Engine Marketing (SEM) strategy, SEO and SEA are complementary. Having a good natural referencing allows you to save on your SEA budget since you are already first in the results. SEO is a sustainable way to position your site in search engines. SEA campaigns offer the advertiser the possibility to be at the top of the results quickly and on specific keywords.

The quality of a website is important for your SEO. The combination of good content and technical performance allows you to have a website well positioned in the search results of engines like Google, Bing, etc.. This audit consists of evaluating the technical aspects of the website, such as loading speed, mobile compatibility, security and accessibility but also the configuration of tools such as Google Search Console and Google Analytics. The objective is to optimize the performance of the website for a better user experience and a better indexing by search engines like Google.
Nowadays, a site must be mobile friendly. As such, the technical audit can also include advice in UX Design if it seems necessary. The objective is to optimize the use of the website to create a positive emotional feeling in the user and make it more ergonomic.
Awareness and visibility audit
This audit consists in evaluating your visibility on the Internet to check the efficiency and the relevance of your backlinks (links pointing to your site, also called backlinks). These links, as well as your referring domains and your anchors used to refer to the different pages of your website, will be studied in a quantitative and qualitative way and on their diversity. A netlinking strategy can be defined in order to improve the popularity of your website with search engines and especially Google. The quality and the relevance of your backlinks can improve the credibility of your website with search engines.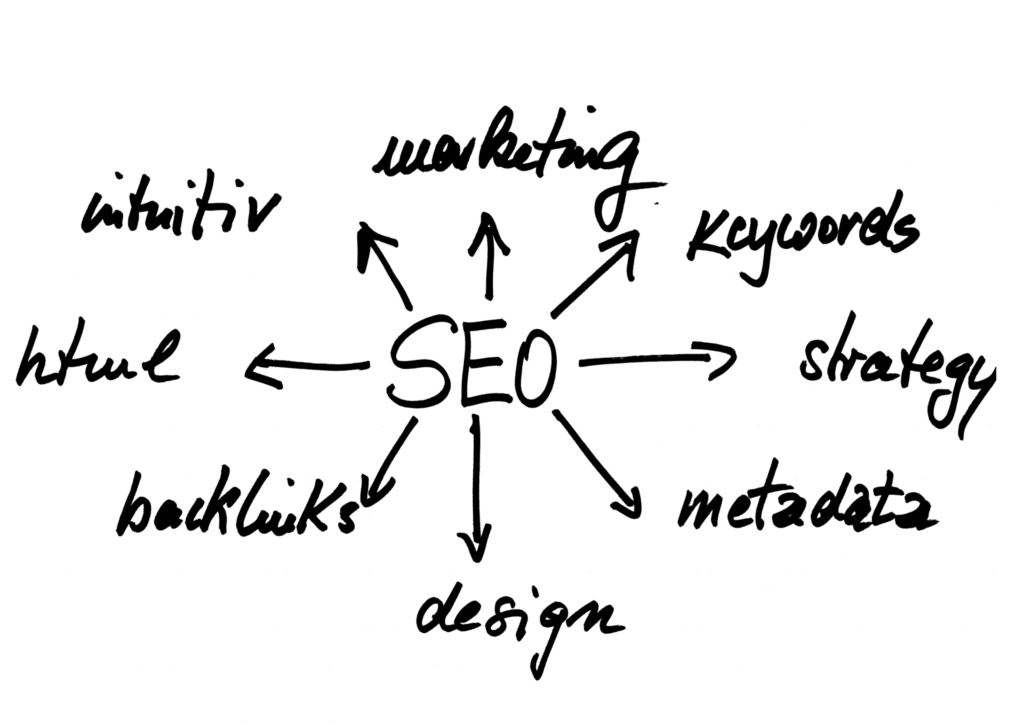 Evaluation des mots-clés utilisés sur le site web et leur pertinence pour le public-cible de l'entreprise.
Analyse des pages du site web
Analyse du « content » consiste à évaluer le contenu textuel du site web, y-compris la qualité, la pertinence et la sémantique.
Semantic Audit – Analyse on-page
The Google algorithm is based on the content of the site. It is necessary to define the key phrases and keywords on which you want to position your website. The keywords are the search intentions of Internet users expressed in search engines. Studying the users' requests allows you to define the set of strategic keywords for your referencing as well as an effective and relevant content strategy for your readers as well as for Google.
The first step is to evaluate the keywords used on the website and their relevance to the company's target audience.
The second step is based on the analysis of the website pages.
Finally, the content analysis consists of evaluating the textual content of the website, including quality, relevance and semantics.
Mediamix offers to audit your website and to provide you with a detailed report on the results of the audit, as well as recommendations to improve your performance in terms of natural referencing. Thanks to our multilingual team (French, English, German, Italian, Spanish), we can audit your website in any language. We also have a dedicated offer for the Chinese market.
All these analyses are carried out using different tools such as Semrush, Google PageSpeed Insights, Google Search Console, Google Analytics, etc.
Semrush for Digital Agencies Certification
Discover our Case Studies,
Insights and News
Mediamix presents a new Case Study for our client Festival du Septembre Musical Montreux-Vevey.