Give extra impact to your campaigns
Digital Out of Home (DOOH) advertising has been a highly effective medium for many years, and its impact can be amplified even further with programmatically targeted campaigns.
Digital Out of Home has evolved into a contemporary variation of traditional out-of-home advertising, offering strong complementarity with your omnichannel strategy. Whether you're running a branding or drive-to-store campaign, digital signage provides impactful consumer engagement during key moments of their day, reinforcing your campaign message without being intrusive.
With DOOH, you'll benefit from :
So DOOH or programmatic DOOH ?
While Digital Out of Home (DOOH) advertising is highly effective, programmatic DOOH can provide even more flexibility and granularity to your campaigns. With programmatic DOOH, your ads are delivered to digital display spaces powered by AdTech. This technology allows for the integration of criteria such as geotargeting, tracking, visual adaptation based on geographic areas, weather, and/or time slots, as well as real-time optimization of your campaigns.
At Mediamix, we have developed a double expertise thanks to our teams specializing in both classic display and programmatic advertising. Our primary objective is to leverage our mastery of traditional media to deploy campaigns with greater subtlety and improve the impact of DOOH campaigns.
The use of programmatic data allows us to work on personalized strategies for all the campaigns we broadcast, delivering even greater impact and relevance for your brand.
Key benefits of programmatic DOOH
Great flexibility in terms of control and targeting. Based on your objectives, we define the relevance and control each location to be activated for your strategy.

Immediate and synchronized activation of your campaign. In the same way, we can configure time slots, optimize and stop each location at any time.
Campaigns for all budgets. The precision of DOOH programmatic buying will allow you to integrate this platform with similar budgets to programmatic or social network campaigns.
Target your audiences with precision according to their buying habits : geotargeting (city, district, street), by environment (train stations/metro/airports, urban centers, shopping malls, around your points of sale, etc.) or even by specific socio-professional category.
Using of 'Triggers' with actions that can be activated automatically when a specific action or event occurs: weather, economic, stock market change, etc.
High engagement with visuals adapted by creative adaptations and control options. DCO (Dynamic Creative Optimization) in real time.
Our approach to DOOH / programmatic DOOH advertising
At Mediamix, we take a comprehensive approach to DOOH/programmatic DOOH advertising campaigns to ensure their effectiveness. Our team of experts works closely with you to define: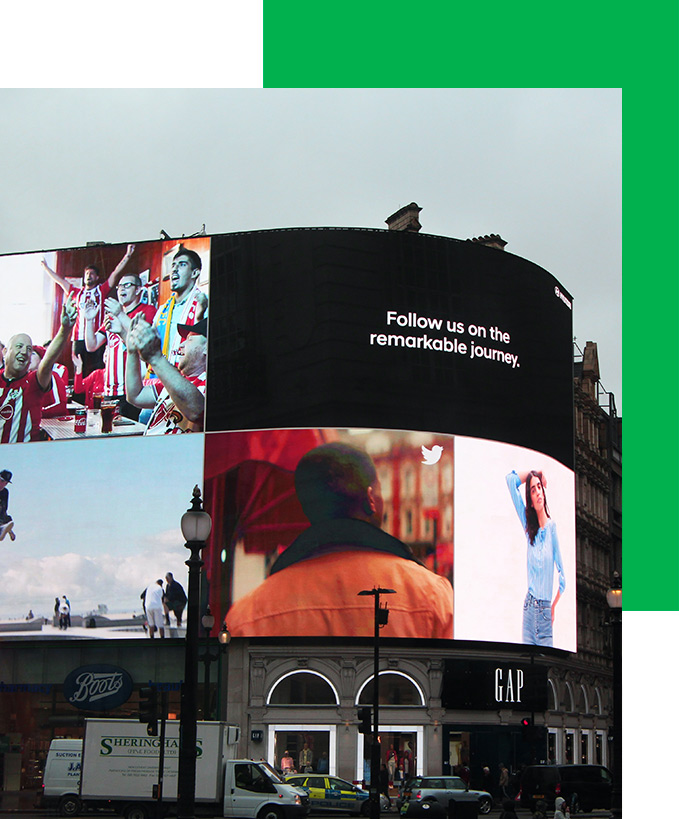 Discover our Case Studies,
Insights and News